Shoulder tattoos are a brilliant way to express your individuality and love for tattoos, whilst at the same time having the option to keep them covered up in certain situations. If youre not yet ready for a half- or full-sleeve tattoo, then a shoulder tattoo is a great starting point. For both men and women, shoulder tattoos can be covered up in the workplace, but come the evenings and weekends you can display them with pride, and its a large enough area to really go for it and have an amazing and elaborate design.
Japanese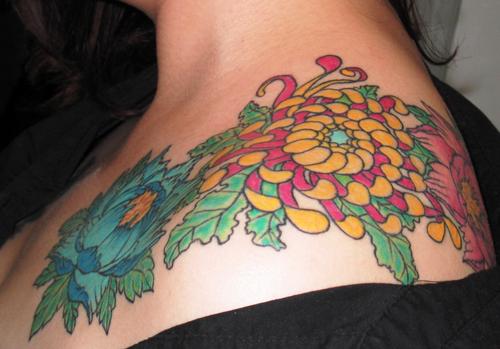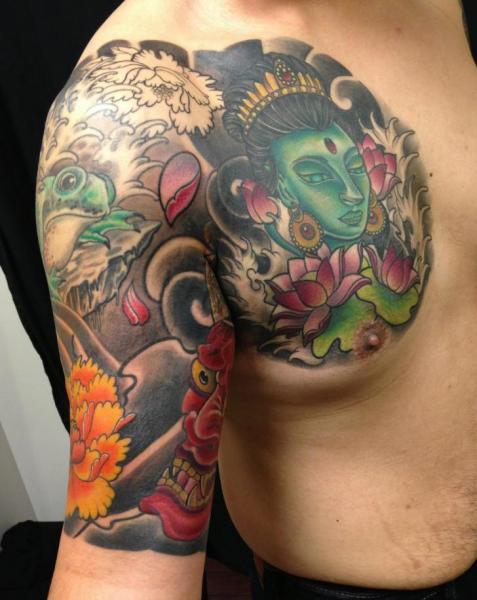 Japanese style tattoos area always a popular choice for any area of the body and the wide range of designs available makes it easy for tattoo-lovers to choose their own personal favorite. Cherry blossoms are a wonderful choice, particularly for women, as they look gorgeous and feminine flowing over the shoulder and onto the back. A detailed Japanese dragon looks awesome, as do koi, tigers and Japanese style waves. If you cant decide on just one image for your Japanese style shoulder tattoo, the area is big enough for your tattoo artist to come up with a design that incorporates two or more of these ideas.
Tribal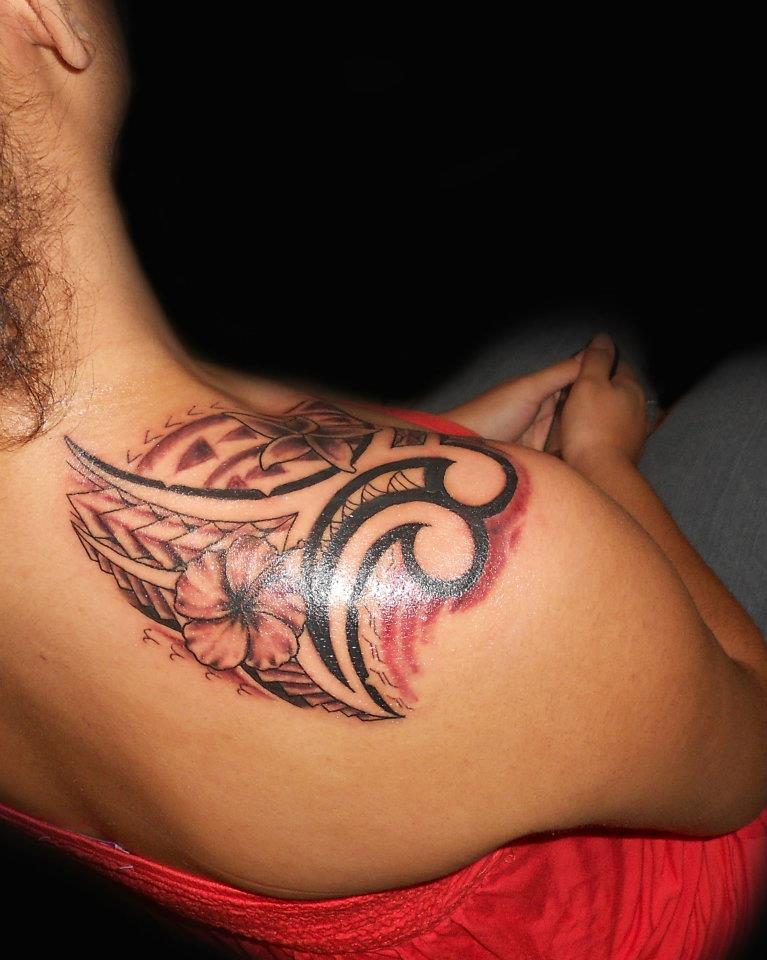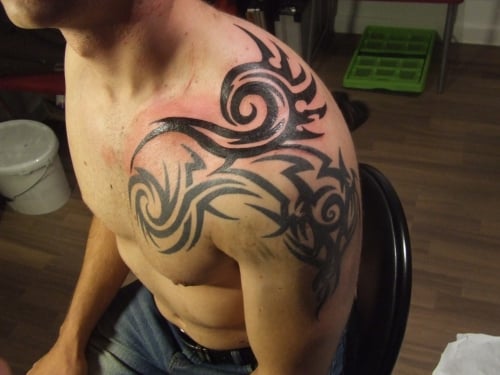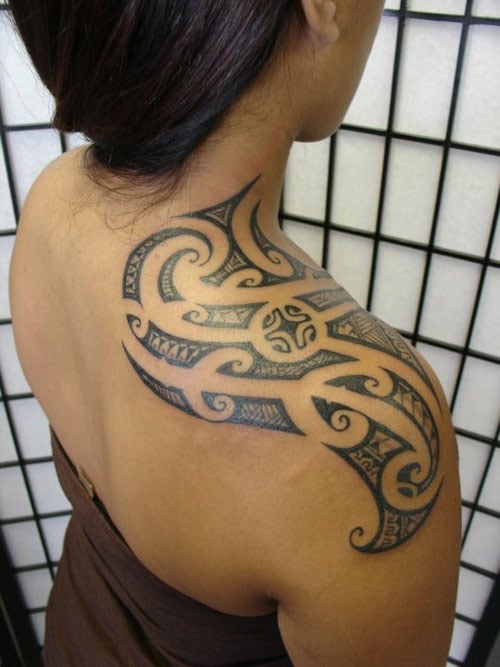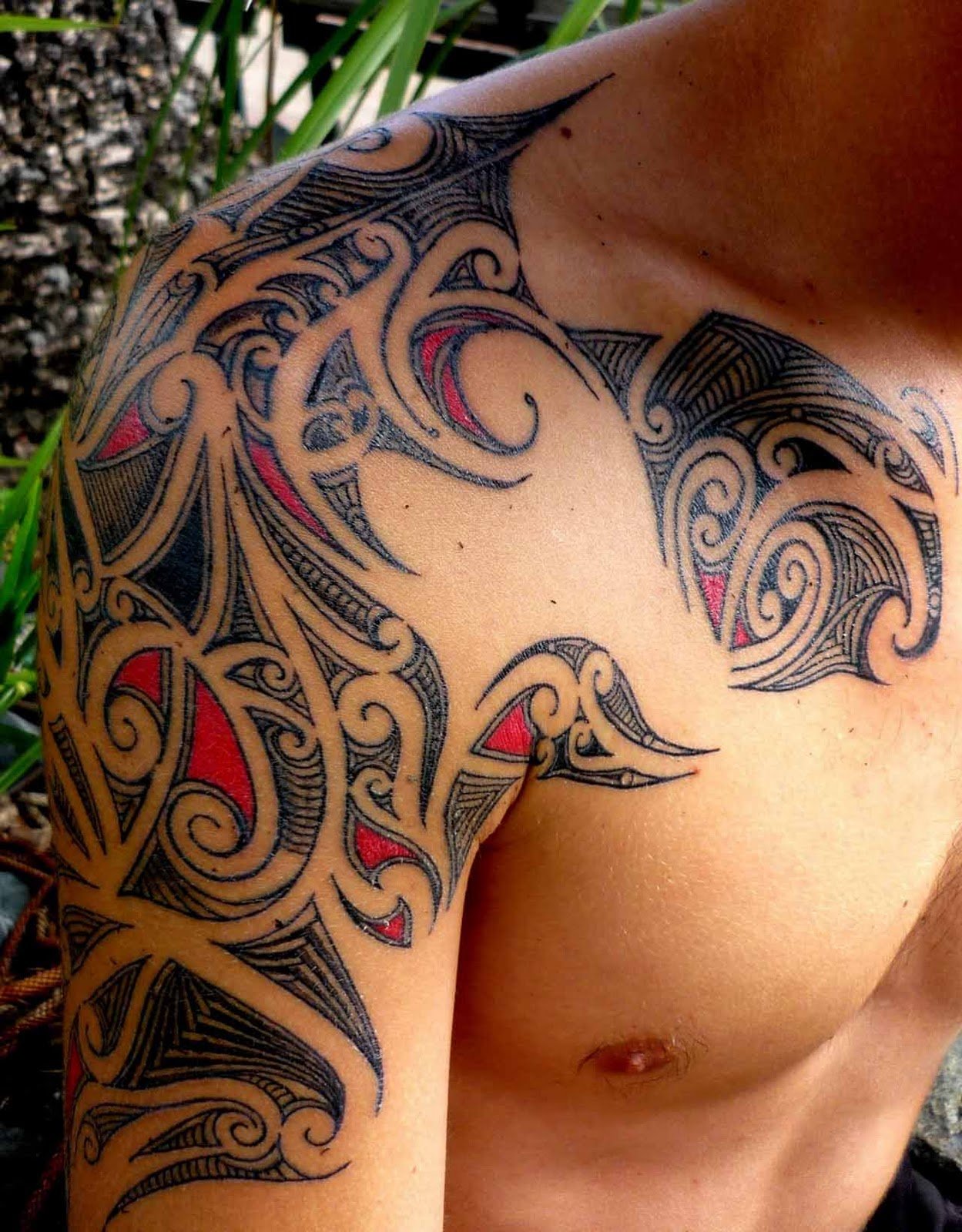 Tribal shoulder tattoo designs are a common choice, and looking at these designs you can see why! The shoulder is the perfect area for placing a large, bold tribal design on, and they can be extended onto the arm or down across the back for an even more powerful effect. A large Polynesian design, with the contrast of sharp angles and sinuous curved lines, looks superb tattooed onto a shoulder, or you could choose a detailed Celtic cross placed perfectly on your shoulder.
Biomechanical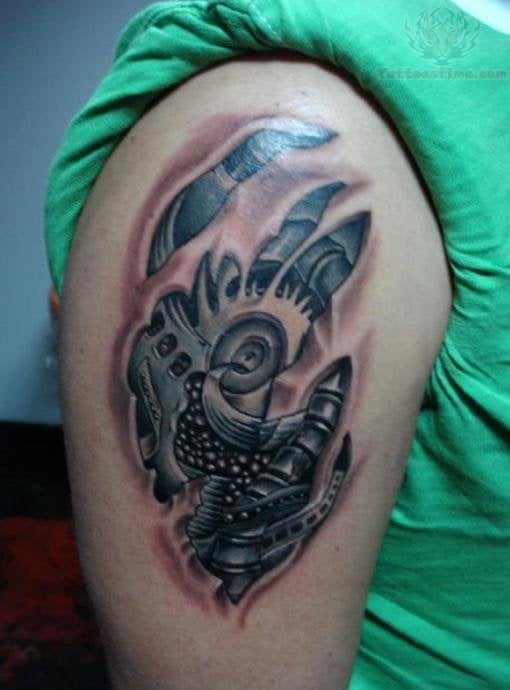 The biomechanical style of tattooing is an up-to-date way of achieving truly jaw-dropping designs, and incorporates elements of the mechanical combined with the human body. An image of the skin of the shoulder ripped open to display the muscles, bone, cables and mechanical joints inside is a great design, and your tattoo will be a real talking point.
Birds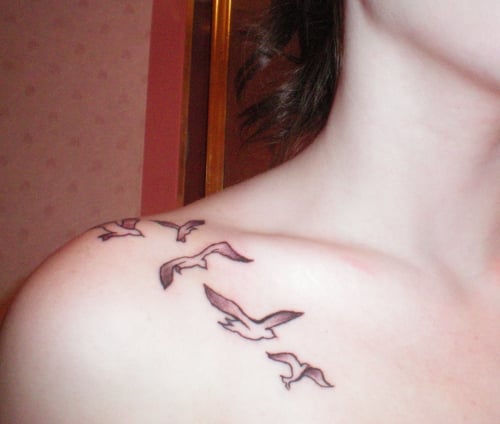 Choosing birds as the basis for your shoulder tattoo is a brilliant way to get as small or large a tattoo design as you like. If youre looking for a large and dramatic tattoo then birds such as an eagle or a phoenix will look perfect large and in color, spreading over the whole shoulder area. A peacock would also look awesome, and its trailing tail feathers could even drape down over the back and ribcage. If you want something smaller then why not go for a cute swallow, or a flock of miniature birds all in black ink.
Pin-up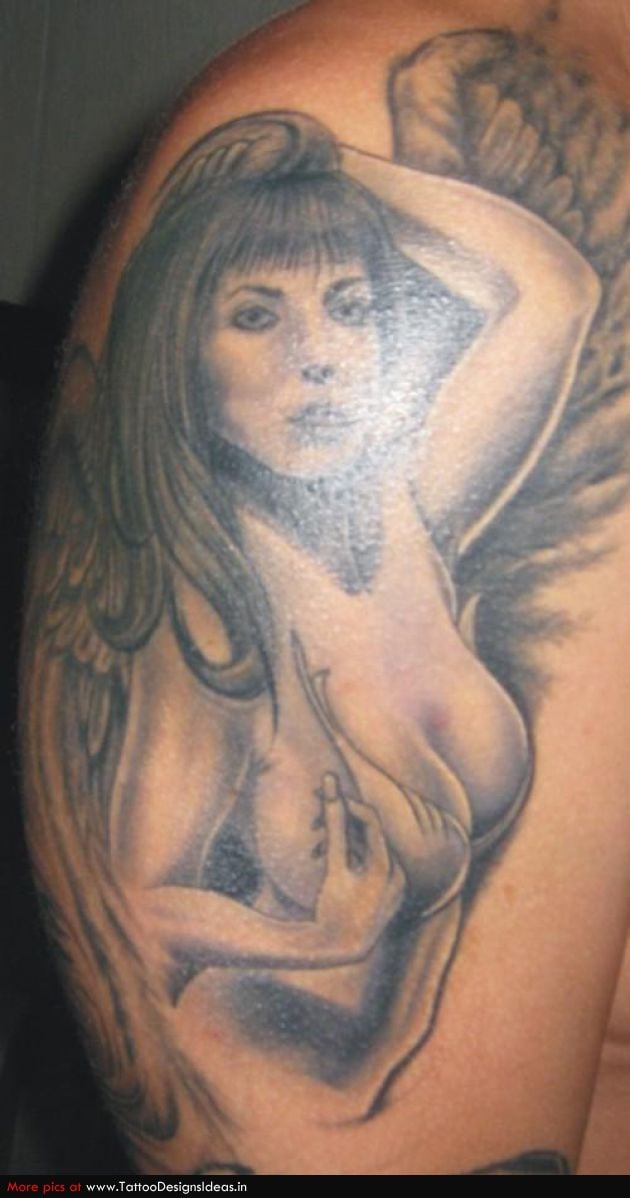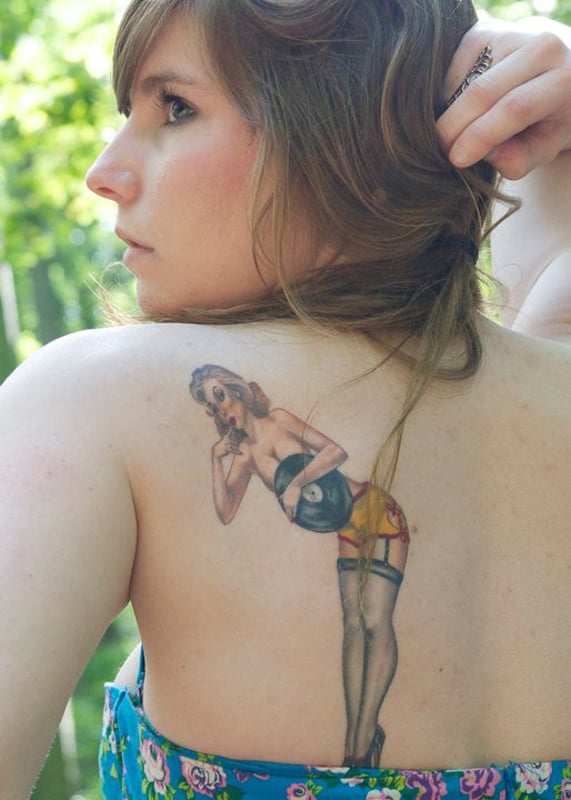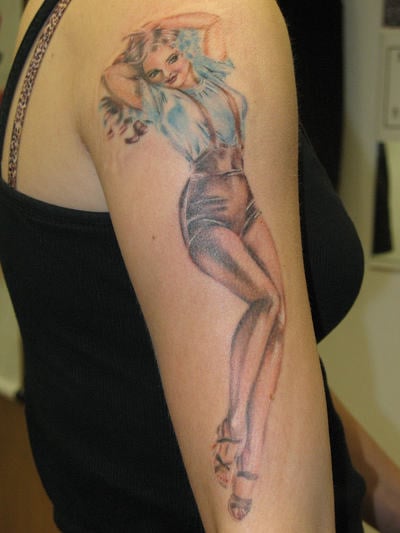 A sexy, cute pin-up girl is an ideal design for a shoulder tattoo, and it fits perfectly onto a shoulder and down onto the upper arm. There are countless ideas for pin-up style tattoo designs, from cute cheesecake style naughtiness, to full-on gothic sexiness. If youre a woman its a nice idea to have yourself immortalized as a pin-up girl, and for men your wife or girlfriend would be thrilled if you choose them to base your tattoo on.
Old School
As well as pin-up girls, there are a whole range of other ideas for fans of old school style tattoos when youre selecting a shoulder tattoo design. Nautical themed tattoos are popular, in the style of Sailor Jerry, for example anchors and sailboats, but sacred hearts, roses, swallows and playing cards are also incredible choices for an old school shoulder tattoo.
Butterflies
Butterflies look beautiful tattooed anywhere on the body, but with a shoulder tattoo you can really achieve the bright colors and intricate detail that makes larger butterfly tattoos look so good. Whether you want a single huge, detailed butterfly on your shoulder, or a number of butterflies in a group, your tattoo artist can let their imagination run riot with different color schemes and designs.
Stars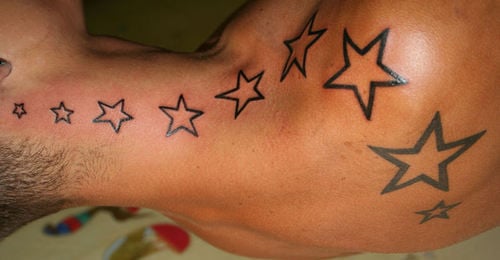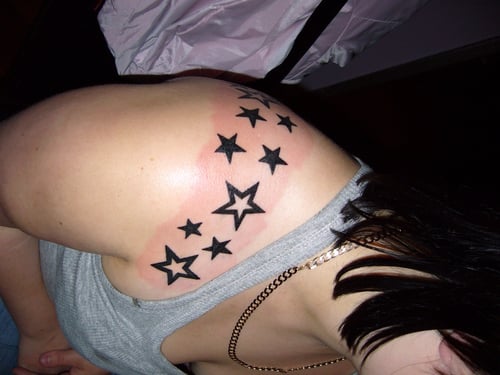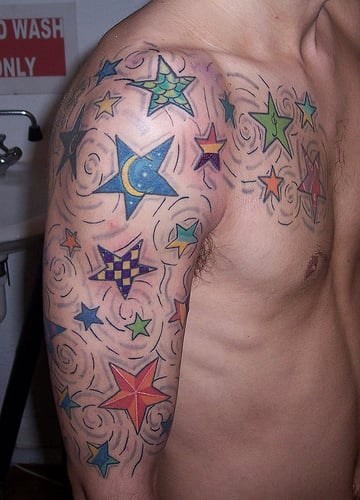 Stars are a popular choice for shoulder tattoo designs, and you can customize your design to make your stars personal to your own preferences. For some, a single star is all they want, and these can be done in simple black and gray, or in vibrant color. A trail of shooting stars would also look amazing as a shoulder tattoo, and stars are a great symbol that can be incorporated into practically any other design.